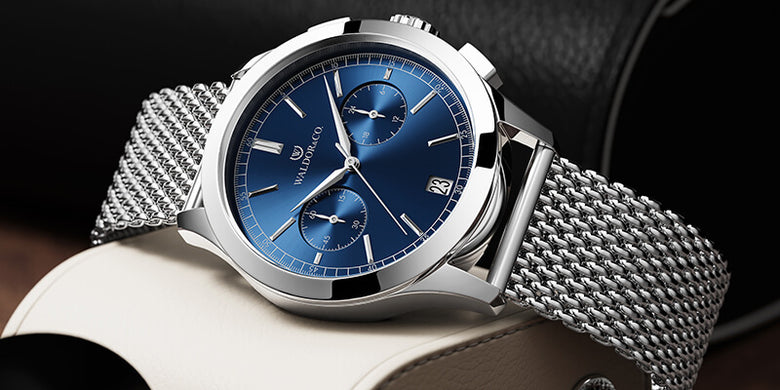 Chronographs: The Best of Both Worlds
For over a century, chronographs have been a fixture in the world of wristwatches, offering wearers the ability to track elapsed time in addition to the time of day. In recent years, the popularity of chronographs has only continued to grow, as more and more people look for watches that offer both style and function.
At its simplest, a chronograph is a type of stopwatch that can be started, stopped, and reset. This is accomplished through the use of two or more pushers that control the movement of the chronograph's hands. In a traditional chronograph, the elapsed time is displayed on a subdial, allowing wearers to easily keep track of how much time has passed.
We usually say that Chronographs combines the best of both worlds. This is because they boast a unique hybrid movement that blends the precision of quartz with the mechanical features of a sweeping second hand and an instant reset chronograph.
While chronographs were originally designed for use in sports and other timed events, they have since become a popular choice for everyday wear. This is largely due to their versatility - a chronograph can be used to time anything from a run around the block to a meeting at work. Additionally, many chronographs are stylish and eye-catching, making them a popular choice for those who want to make a statement with their wristwear.
Over the years, chronographs have evolved to include a number of different features and complications. For example, some chronographs feature a tachymeter, which allows wearers to measure speed over a known distance. Others feature a flyback hand, which can be reset to zero and immediately restarted with a single push of a button. There are even chronographs that include multiple subdials, allowing for the tracking of multiple elapsed times at once.
Of course, not all chronographs are created equal. When shopping for a chronograph, it's important to consider factors such as the movement, the case, and the bracelet. A well-made chronograph should have a smooth, accurate movement and a case that is both sturdy and water-resistant. Additionally, the bracelet should be comfortable to wear and secure enough to keep the watch in place during daily wear.
In conclusion, chronographs are a versatile and stylish choice for anyone looking for a wristwatch that offers both form and function. Whether you're a runner, a businessman, or simply someone who appreciates a good timepiece, a chronograph is a must-have accessory that is sure to impress. Discover Waldor & Co.'s collection of Chronographs here.