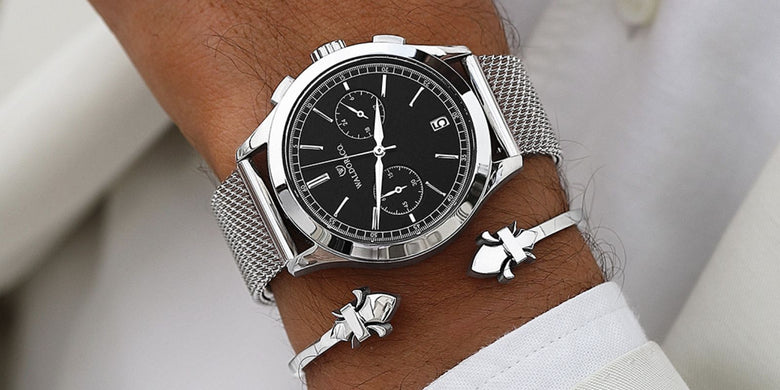 A Closer Look at Waldor & Co. Watches: The Art and Science Behind Six Essential Complications
In this editorial, we will delve into the fascinating world of watch complications and shed light on the elements that define Waldor & Co. watches. These watches are not only beautiful but also functional, thanks to their elaborate designs and unique features.
Watch Complications: The Heart of a Timepiece
A sophisticated mechanism known as a complication is at the heart of every Waldor & Co. watch. These details exceed each watch from a mere accessory to a functional piece of art. With numerous complications to select from, it is essential to comprehend the features that distinguish our timepieces.
Chronograph: A Timeless Classic
Chronographs are sophisticated timepieces that combine the functionality of a stopwatch with traditional timekeeping at the same time. They have several sub-dials, or registers, that can measure and display elapsed time in different units, such as seconds, minutes, and hours. Chronographs often include two or three pushers on the case's side that are used to start, stop, and reset the stopwatch function. Discover our chronographs here.
Mecaquartz Movement: The Best of Both Worlds
Mecaquartz movements are an unique merging of mechanical and quartz watch technology. They combine the precision of a quartz movement with the look and feel of a mechanical watch. The timekeeping component of a mecaquartz movement is powered by a quartz crystal, ensuring accurate timekeeping. Meanwhile, a mechanical module drives the chronograph function, giving the watch a smooth sweeping motion similar to that of a traditional mechanical chronograph. When compared to fully mechanical chronographs, this innovative hybrid approach offers several advantages, including improved battery life, reduced maintenance requirements, and affordability.
Sapphire Crystal Glass: Clarity and Durability
Because of its outstanding qualities, sapphire crystal glass is a highly sought-after material in the watchmaking industry. It's crafted from synthetic sapphire, which is formed by crystallizing aluminum oxide at extremely high temperatures. This produces a material with a hardness second only to diamond, making it very resistant to scratches, abrasions, and collisions. Sapphire crystal glass is also exceptionally clear, providing for great readability of the watch face while reducing glare and reflections.
Rhodium-plated 316L Stainless Steel: A Sleek and Resilient Finish
Waldor & Co. watches are made of rhodium-plated 316L stainless steel, often known as marine-grade stainless steel. It is an alloy containing chromium, nickel, and molybdenum, which provide exceptional rust and corrosion resistance even in harsh environments or when exposed to saltwater. Rhodium is a rare, highly valuable metal of the platinum family recognized for its tarnish resistance, durability, and silvery-white color. The rhodium plating adds a layer of protection against scratches and tarnishing, ensuring that the watch retains its polished appearance over time.
Tachymeter Dial: A Tool for Speed and Distance
The tachymeter display is an intricate and highly useful complication available in select Waldor & Co. watches. This feature allows the wearer to accurately measure speed based on elapsed time over a predetermined distance. A tachymeter scale is usually engraved around the circumference of a watch dial or bezel. To use this feature, the wearer starts the chronograph when it passes a set beginning point and stops it when it reaches the finish point. The seconds hand will then point to the corresponding tachymeter number, displaying the average speed in the selected unit.
Mesh Straps: A Blend of Style and Comfort
Another noteworthy feature of Waldor & Co. watches is the use of mesh straps, also known as Milanese straps, are a stylish and comfortable choice for watch bands. Made from finely woven stainless steel, these straps provide a flexible, and lightweight feeling, ensuring a comfortable fit on the wrist. The weaving process results in a visually appealing pattern that adds a touch of elegance to the timepiece, making it suitable for various occasions, from casual outings to formal events.
In conclusion, each complication, from chronographs to tachymeter displays, symbolizes a distinct blend of artistry, engineering, and creativity. Understanding these features allows one to properly appreciate Waldor & Co.'s attention to craftsmanship and precision, making them an excellent addition to any timepiece collection. Discover Waldor & Co.'s assortment for him and for her.